Adopted By
Quantumboost (talk)
Original Creator:
Koumei
Date Adopted:
3/29/2010
Status:
Complete
Editing:
Spelling and Grammar only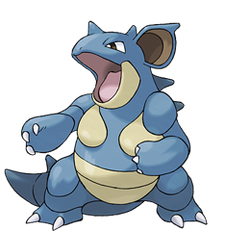 | | Nidoqueen |
| --- | --- |
| Size/Type: | Medium Magical Beast (Earth) |
| Hit Dice: | 12d10+84 (150 hp) |
| Initiative: | +2 (+2 Dex) |
| Speed: | 30 ft. |
| Armor Class: | 24 (+2 dexterity, +12 natural), touch 12, flat-footed 22 |
| Base Attack/Grapple: | +12/+14 |
| Attack: | Bite +14 melee (1d6+3 plus poison) or Poison Dart +14 ranged (1d3 plus poison, 30 ft. increment) |
| Full Attack: | Bite +14 melee (1d6+3 plus poison) or Poison Dart +14 ranged (1d3 plus poison, 30 ft. increment) |
| Space/Reach: | 5 ft./5 ft. |
| Special Attacks: | Poison, Poison Darts, Fire Punch, Earthquake, Body Slam, Stone Edge |
| Special Qualities: | Poison Point, Egg Move, Substitute, Sandstorm |
| Saves: | Fort +17, Ref +13, Will +11 |
| Abilities: | Str 15, Dex 14, Con 23, Int 10, Wis 19, Cha 18 |
| Skills: | — |
| Feats: | Improved Toughness, Iron Will, Ability Focus (Poison), |
| Environment: | Temperate plains |
| Organization: | Solitary or posse (up to 4) |
| Challenge Rating: | 11 |
| Treasure: | Standard. |
| Alignment: | Neutral |
| Advancement: | 13-16 HD (Medium), 17-20 HD (Large) |
| Level Adjustment: | — |

Description::The blue, craggy biped glances over you, seemingly unimpressed, but upset with your presence on its territory.
Poison: Injury, Fortitude DC 24, initial damage 2d6 Con and Nauseated 1 minute, secondary damage 3d6 Con. The DC is Constitution-based.
Poison Darts (Ex): Nidoqueen can fire small venomous barbs up to 30 feet away. These regrow every day, allowing up to 4 to be fired per day.
Poison Point (Ex): Anyone who strikes a Nidoqueen with an unarmed or natural weapon attack, or grapples/is grappled by one, takes one point of damage and must save against its poison.
Substitute (Sp): Nidoqueen can cast mirror image at will and simulacrum once per day. Caster level equals hit dice.
Fire Punch (Su): Once per 3 rounds, as a Standard action, Nidoqueen may make a Fire Punch attack. This is a slam that deals 1d4+3 damage, plus 1d6 Fire damage per hit die. Additionally, the target must pass a DC 18 Reflex save or catch fire, taking 2d6 Fire damage per round. The DC is Strength-based.
Earthquake (Sp): Nidoqueen can cast earthquake (CL 12) once per 4 rounds.
Body Slam (Ex): If Nidoqueen successfully damages a foe with a grapple attack, they must make a Fortitude save (DC = Grapple check) or be stunned for 1d4 rounds.
Stone Edge (Su): Nidoqueen can cast spike stones at will.
Sandstorm (Su): As a Standard action, Nidoqueen can summon a sandstorm, as per the sandstorm[1] spell.
Egg Move: Nidoqueen inherits the special power it had as a Nidorina:
Charm Person -> charm monster at will as a spell-like ability
Beat Up (Ex): Nidoqueen and all allies within 10 feet gain +1 to hit and +1d6 damage for every ally adjacent to their target.
Lesser Confusion -> confusion at will as a spell-like ability
References
Edit
---
Back to
Main Page
→
3.5e Homebrew
→
Monsters