This page introduces the basics for getting started with editing on Wikia and a walkthrough of the Wikia editor. You may wish to visit the linked pages to learn more in-depth details of editing.
Note: the information below is for the classic Wikia editor. For information on using the new VisualEditor, see Help:VisualEditor.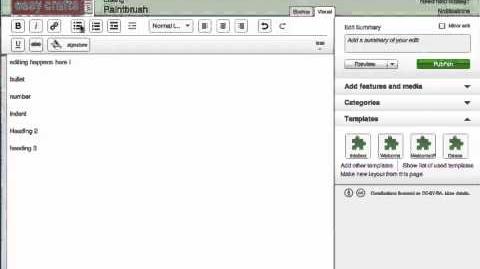 Step by step
Anyone can edit a wikia, and generally you don't even need to have an account to edit! (There are some circumstances which can restrict editing.)
Editor features
Basic editing tips
Finally, don't be afraid if you 'break' anything. All edits to a page are stored in the page history, and if something does go wrong you can simply revert to an older version.
Notes
Due to some issues with Internet Explorer 11, the editor's visual mode is not currently available when using this browser. It may be re-enabled at a future date.
See here for an explanation of Wikia's editor user preferences.
Next steps
Further help and feedback