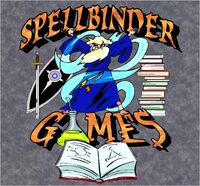 Spellbinder Games is the name under which the Dreadmire sourcebook by Randy Richards was published in 2005. According to the cover of Dreadmire, its slogan is, "Your newest weapon in the war against reality."
Dreadmire, a d20 book published under Wizards of the Coast's 3rd Edition Open Gaming License (OGL).
The Dreadmire Chronicles is a trilogy of books due out in 2009.
A Dreadmire Adventures supplement was put on hold due to the introduction of 4th Edition D&D.
External links
Edit