DnDWiki:Monster Manual v.3.5
Talk

0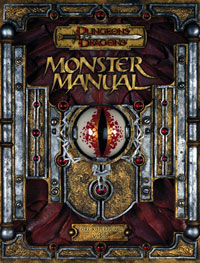 Monster Manual v.3.5
Publication Order
Preceded by
{{{previous}}}
Followed by
{{{next}}}

This core rulebook is a minor revision of earlier Monster Manual, updating it for D&D3.5 and slightly restructuring the statistics (like separation of Attack and Full Attack). The changes are not drastic, it is possible to use the old Monster Manual together with D&D v.3.5 Accessory Update Booklet.
External links
Edit
See also
Edit
Ad blocker interference detected!
Wikia is a free-to-use site that makes money from advertising. We have a modified experience for viewers using ad blockers

Wikia is not accessible if you've made further modifications. Remove the custom ad blocker rule(s) and the page will load as expected.