DnDWiki:Monster Manual IV
Talk

0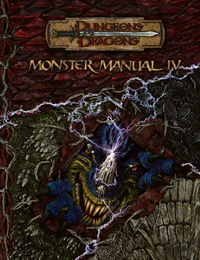 Monster Manual IV
Publication Order
Preceded by
{{{previous}}}
Followed by
{{{next}}}

This book is a good source of new monsters presented and described in the style already familiar from Monster Manual III and other monster books, yet new stat block format is used. Sample encounters, pregenerated treasure hoards, sidebars about incorporating creatures into Forgotten Realms or Eberron campaigns are given.
External links
Edit
See also
Edit
Ad blocker interference detected!
Wikia is a free-to-use site that makes money from advertising. We have a modified experience for viewers using ad blockers

Wikia is not accessible if you've made further modifications. Remove the custom ad blocker rule(s) and the page will load as expected.