DnDWiki:Magic Item Compendium
Talk

0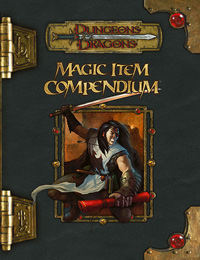 Magic Item Compendium
Publication Order
Preceded by
{{{previous}}}
Followed by
{{{next}}}

This book contains over 500 new and previously published Magic Items to enhance your D&D campaign. The information is very well presented; items are conveniently organized by type and include everything you need to start using them right away. The appendices contain categorized lists which are broken down by item level and type/body slot. New random treasure tables are also included which contain items not only from this book, but from the Dungeon Master's Guide as well.
External links
Edit
Ad blocker interference detected!
Wikia is a free-to-use site that makes money from advertising. We have a modified experience for viewers using ad blockers

Wikia is not accessible if you've made further modifications. Remove the custom ad blocker rule(s) and the page will load as expected.