DnDWiki:Eyes of the Lich Queen
Talk

3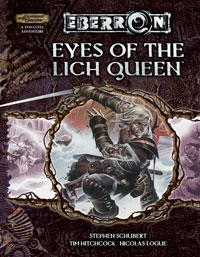 Eyes of the Lich Queen
Publication Order
Preceded by
{{{previous}}}
Followed by
{{{next}}}
Despite from being called an accessory, this book is a big adventure that lifts 5th-level characters up to the 10th level. The plot is dragon-centered, not undead-centered (yet it envolves a lich character called Lady Vol). This adventure takes place in Eberron campaign setting.
External links
Edit
Ad blocker interference detected!
Wikia is a free-to-use site that makes money from advertising. We have a modified experience for viewers using ad blockers

Wikia is not accessible if you've made further modifications. Remove the custom ad blocker rule(s) and the page will load as expected.