DnDWiki:Complete Scoundrel
Talk

0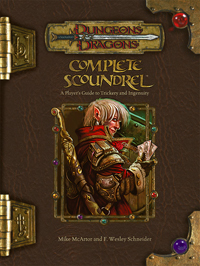 Complete Scoundrel
Publication Order
Preceded by
{{{previous}}}
Followed by
{{{next}}}

This book has not yet been published, but official sources maintain that it will concentrate on deception, trickery and narrow escapes, containing new feats, spells, magic items, prestige classes and variant rules.
External links
Edit
Ad blocker interference detected!
Wikia is a free-to-use site that makes money from advertising. We have a modified experience for viewers using ad blockers

Wikia is not accessible if you've made further modifications. Remove the custom ad blocker rule(s) and the page will load as expected.