Demonbinder
Edit
| | | |
| --- | --- | --- |
| " | By the eight names of Lolth, I invoke thee. By the eight curses of the Flesh-Carver, I command thee. By the eight dooms of the spider queen I summon thee. | " |
Prerequisite: Warlock, Dark pact
By becoming a demonbinder, you sacrifice your immortal soul for the instant power granted by the abyss. You draw demonic agencies inside yourself, triggering vile transformation that bestows not only a sampling of a fiend's power, but also leaves a resemblance to that fiend. Constant exposure to these creatures leaves a stain on your soul so foul that no act of restitution will ever cleanse it.
Demonbinder Path Features
Edit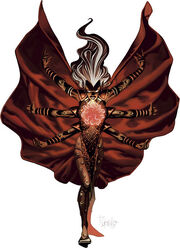 Demonic Action (11th Level): When you spend an action point to take an extra action, if you use that action to make an attack that hits, the attack also deals ongoing 5 poison damage (save ends).
Demonbind (11th Level): Your darkspiral aura has a starting value of 1 rather than 0. As a minor action you can reduce your darkspiral aura by 1 to gain one of the following benefits.
---
Back to Main Page → 4e Homebrew → Classes.
Back to Main Page → 4e Homebrew → Sourcebooks → Arachonomicon; the Book of Spiderkind → Classes.
Ad blocker interference detected!
Wikia is a free-to-use site that makes money from advertising. We have a modified experience for viewers using ad blockers

Wikia is not accessible if you've made further modifications. Remove the custom ad blocker rule(s) and the page will load as expected.