Nominated for mass deletion along with 22 other D&D articles at Wikipedia:Wikipedia:Articles for deletion/Death watch beetle (Dungeons & Dragons)
In the Dungeons & Dragons fantasy role-playing game, the crabman is a large monstrous humanoid.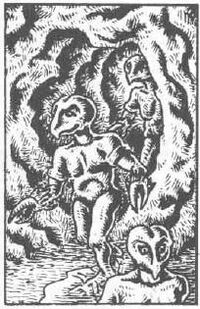 Publication history
Edit
The crabman first appeared in the first edition in the original Fiend Folio (1981).[1]
The crabman appeared in the second edition in the Monstrous Compendium Fiend Folio Appendix (1992),[2] reprinted in the Monstrous Manual (1993).[3]
The yurian appeared in the third edition Fiend Folio (2003).
Description
Edit
Crabmen are simple hunter-gatherers and generally peaceful.
A crabman is usually neutral and generally lives near warm sea coasts.
Other publishers
Edit
The crabman appeared in the Tome of Horrors (2002) from Necromancer Games.[4]
Additional reading
Edit
References
Edit
Ad blocker interference detected!
Wikia is a free-to-use site that makes money from advertising. We have a modified experience for viewers using ad blockers

Wikia is not accessible if you've made further modifications. Remove the custom ad blocker rule(s) and the page will load as expected.