Created By
Sulacu (talk)
Date Created:
October 12, 2007
Status:
Pending
Editing:
Please feel free to edit constructively!
Civil Protection Riot Gear
Edit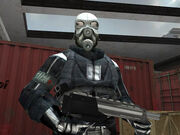 This basic but effective riot gear provides the run of the mill Combine Metro Cop with ample protection against most mundane threats. The ensemble comes complete with boots, trousers and protective padding, as well as climate control clothing and a full head protection in the shape of a helmet complete with simple breathing mask, bestowing added protection in the shape of toxin resistance.
Armor Bonus: 4
Max Dex Bonus: 4
Armor Check Penalty: -3
Special: +5 bonus to Fortitude saves made to resist toxins and chemicals.
Cost: Unresolved
---
Back to Main Page → D20 Modern → Equipment.

Ad blocker interference detected!
Wikia is a free-to-use site that makes money from advertising. We have a modified experience for viewers using ad blockers

Wikia is not accessible if you've made further modifications. Remove the custom ad blocker rule(s) and the page will load as expected.